---
Located in New York City, the world's first and foremost vertical metropolis, The Skyscraper Museum celebrates the City's rich architectural heritage and examines the historical forces and individuals that have shaped its successive skylines. Through exhibitions, programs and publications, the Museum explores tall buildings as objects of design, products of technology, sites of construction, investments in real estate, and places of work and residence. For a description of the gallery and for photos of the space, please visit our Photo Slideshows page.
The Skyscraper Museum is located in lower Manhattan's Battery Park City at 39 Battery Place. Museum hours are 12-6 PM, Wednesday-Sunday.
General admission is $5, $2.50 for students and seniors, children under 12 are free. Free for members of the military, police, fire departments, veterans and for visitors who are disabled and their caregivers. Click here for directions to the Museum. All galleries and facilities are wheelchair accessible.

The gallery will be closed for installation on May 1 through 3. The book store will be open. Please check our website for updates on gallery hours for May 4 & 5.


CURRENT EXHIBITION


Open July, 2018 through April 28, 2019
SKYLINE is a ground-breaking exhibition devoted to the invention and evolution of Manhattan's skyline, past, present, and future. The exhibition examines the emergence of the collective image of the skyline as the brand identity of New York, but also distinguishes five periods in which new buildings grow and take characteristic forms based on economic, technological, and regulatory factors.
Click here for related press coverage
---
UPCOMING PROGRAMS
Tuesday, May 14, 2019 6:30-8:00 pm

Andrea Barnet Book Talk
Visionary Women
How Rachel Carson, Jane Jacobs, Jane Goodall, and Alice Waters Changed Our World

Ecco, 2018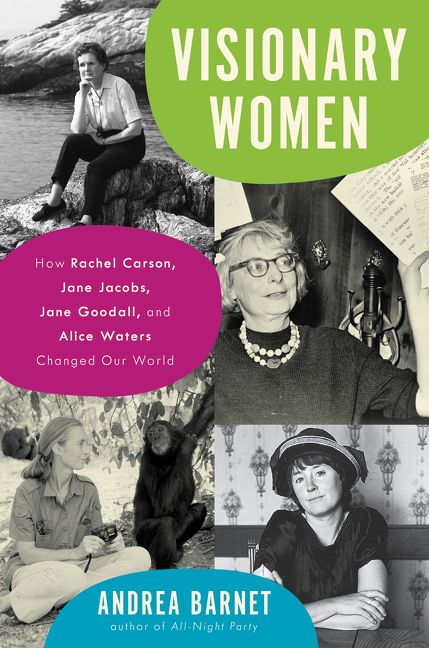 Visionary Women is the story of four renegades - Rachel Carson, Jane Jacobs, Jane Goodall and Alice Waters - who found their voice in the early 1960s and profoundly shaped today's world. With a keen eye for detail, Andrea Barnet traces the arc of each woman's career and explores how at a time of enormous social upheaval, all four worked against the corporate culture of the 1950s, prevailing against mostly male adversaries and anticipating the emerging counterculture. For her talk, Barnet will focus on New York urbanist Jane Jacobs and her revolutionary book The Death and Life of Great American Cities (1961) and Rachel Carson's Silent Spring (1962) which helped to launch the environmental movement.

Andrea Barnet is the author of All-Night Party: The Women of Bohemian Greenwich Village and Harlem, 1913-1930. She was a regular contributor to the New York Times Book Review for twenty-five years, and her journalism has appeared in Smithsonian Magazine, Harper's Bazaar, The New York Times, Elle and the Toronto Globe and Mail, among other publications. She splits her time between the Hudson Valley and New York City.
Reservations are required, and priority is given to Members and Corporate Member firms and their employees.
All guests MUST RSVP to programs@skyscraper.org to assure admittance to the event. Not a member? Become a Museum member today!

---
Click here for more upcoming programs.
---
UPCOMING FAMILY PROGRAMS


FORMS IN NATURE
May 4, 2019
10:30-11:45 AM
Are humans the only architects? Come and learn about the types of structures built by animals and how they inspire architect's designs. Using ideas from these forms children will design and build their own structures. Ages 4-8. RSVP required.


---
Click here for more upcoming Family Programs
---
SKYSCRAPER GALLERIES
The Skyscraper Museum's core exhibits trace the history of high-rise construction with models, videos, and infographics. Displays include a 40-foot long mural on the History of Height from the pyramids to the present, highlighting themes and buildings that relate to the evolution of the skyscraper and point the way to 21st-century supertalls. A special section devoted to the World Trade Center examines its creation as an urban renewal project in the 1960s and documents the rebuilding after 9/11. Case studies also feature the history of construction and models and graphics of the tallest skyscrapers internationally.
---
EXPLORE LOWER MANHATTAN
Self-Guided Walking Tour of Heritage Trails New York
Trace the rich history of lower Manhattan on its streets or on your computer. The Skyscraper Museum has updated four walking tours, first created in 1996 as Heritage Trails New York, with modern markers adding two new decades of development. Hunt the original markers on the street and read and see the recent history on your mobile device.
Explore Downtown's history and read updates from the past two decades from your computer or as you trace the original routes! LAUNCH HERITAGE TRAILS NEW YORK
​
​The Skyscraper Museum has created a new web project that explains an emerging form in skyscraper history that has evolved in New York over the past decade:  the super-slender, ultra luxury residential tower
. These pencil-thin periscopes — all 50 to 90+ stories — use a development and design strategy of slenderness to pile their city-regulated maximum square feet of floor area (FAR) as high in the sky to as possible to create luxury apartments defined by spectacular views.
Click here to view NEW YORK'S SUPER-SLENDERS
---
TEN & TALLER, an
interactive web project
, explores the rise of New York's skyscrapers by surveying every building in Manhattan ten stories or taller from the first ones in 1874 through 1900. The Skyscraper Museum collected images and mapped all the 252 buildings, as well as created a timeline of dates of construction. These interactive interfaces allow viewers to see and explore the buildings in innumerable ways. The web projects were launched in conjunction with the Museum's 2016 exhibition TEN & TALLER: Manhattan 1874 - 1900 which is
documented in full here
.
---
A 3-D CBD: How the 1916 Zoning Law
Shaped Manhattan's Central Business Districts
1939-40 NYC Department of Finance tax lot photographs of the Garment District, showing the distinctive setbacks created by the 1916 zoning law. From left to right: 345-351 W. 35th Street; 347-351 W. 36th Street; 247-255 W. 38th Street.
​
This essay, published online on July 25, 2016, to mark the precise centennial of the passage of the New York City Zoning Resolution on July 25th, 1916, is a revised and updated version of a 1991 conference paper and subsequent chapter of a 1993 book,
Planning and Zoning New York City: Yesterday, Today, and Tomorrow.
Organized by the New York City Department of City Planning, the conference celebrated the 75th anniversary of the zoning law with a symposium on the history and future of planning in New York City.
Read the final report here
Click here to read the essay
---
HILARY BALLON
On June 16, 2017, we lost a dear friend and extraordinary colleague,
Hilary Ballon. Please click here for a remembrance.
---
JOIN OR MAKE A DONATION TO THE SKYSCRAPER MUSEUM
The Museum is a participating member of the Downtown Culture Pass.